Wykład otwarty: "Microhistory as Method" - prof. József Böröcz (Rutgers University)
Institute of History and Department of Contemporary History, University of Gdańsk
Historiographical Association, section Gdańsk
INVITE YOU TO LECTURE BY
Prof. József Böröcz (Rutgers University)
Microhistory as Method
The Performing Arts Ensemble of the Hungarian People's Army
Visits the People's Republic of China in the Autumn of 1956
FRIDAY, NOVEMBER 8, 2019, 9:45–11:15
FACULTY OF HISTORY UG, 1.46
József Böröcz is Professor of Sociology at Rutgers University, founding President of the Karl Polányi Center for Global Social Studies in Budapest and, for the 2019-2020 academic year, a senior Fulbright visiting scholar at the Institute for Social Studies at the University of Warsaw.
He is a historical sociologist. His 2010 book entitled The European Union and Global Social Change: A Critical Geopolitical Economic Analysis proposed constructing conceptual bridges between critical global sociology of the world-system and historical sociology from a post-colonial viewpoint.
His current work involves reconstructions of the life-worlds and creative-cognitive commitments of earlier generations of the societies of east-central Europe, particularly as those patterns reveal themselves in global encounters and interactions.
FREE AND OPEN TO ALL
The outcome of a more than ten year long research project, this presentation aims to reconstruct some of the ways in which the artists, bureaucrats and military officers involved in the Ensemble devised, often improvised, ways to express remarkably nuanced and complex—although only partly successful—strategies for carving out political, aesthetic, cultural, emotional and personal spaces of maneuver in the late-Stalinist / Maoist / Cold War context of late 1956, in the shared geopolitical universe of Hungary, China, and the USSR. The talk focuses on issues of method, and includes fifty or so photographs, excerpts from oral history interviews with participants, and the screening of a 15-minute film by director Miklós Jancsó, a great Hungarian cinematographer, made during the tour.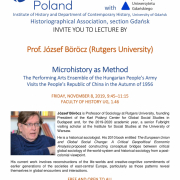 Treść ostatnio zmodyfikowana przez: Wacław Kulczykowski
Treść wprowadzona przez: Wacław Kulczykowski
Ostatnia modyfikacja:
wtorek, 29 października 2019 roku, 9:38
Data publikacji:
wtorek, 29 października 2019 roku, 7:47